WIAW: Gluten Free and Upping Protein
Hey lovies! I'm back to join the WIAW Party but for the first time, gluten free!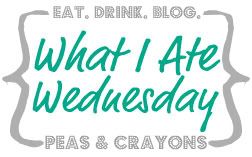 So this whole gluten free thing isn't all that bad after getting used to it. At first I craved and craved everything I couldn't have and thought that this would be an impossible thing for me to adjust to. But I'm actually starting to get used to it and I feel a million times better already. Of course there are things that I feel like I'm missing out on, but I'm slowly finding my substitutes.
Fortunately one of my favorite cereals is gluten free so breakfast is still as tasty as ever!
I've also been eating more nuts and nut butter to keep my wheaty cravings at bay along with my savory snacks which seem to be working a treat.
I seem to be pretty much living off these chickpeas. Seriously. I think I need chickpea rehab because despite eating at least 4 bags a day, I can't stop myself and they seem to be making an appearance for both lunch and dinner.
And then maybe I've developed a hummus obsession to go on top of that.
I also treated myself to a little iHerb order to get some more savory type gluten free snacks to try because let's face it, iHerb is probably going to become an addiction now more than ever because it has so many more option for a gluten free diet. Instead of going for some bars I decided to try some new things!
Ener-G Pretzels which are SO SO good! I love pretzels and you can't even tell that these are gluten free. Perfect! Wheaty craving totally satisfied!
I also got some new crackers after trying the gluten free ones available here in the UK, I was not impressed. I'm not so keen on the Hol-Grain brown rice crackers but the Almond Nut-Thins are soooo good! I also love salty things and these are just a perfect amount of saltiness. Definitely recommend these ones!
Although I've been snacking on more savory type things now, of course I still have that sweet tooth of mine so I gave in and had to try these as a substitute to my beloved Snackimals! They're so cute hehe! They weren't as good as the Snackimals sadly but they made a good enough sub to buy them again to get my fix
Along with eating more savory, I've also been more conscious of trying to up my protein as I've also realised that I haven't been getting enough which is probably why I keep craving things like cereal and nut butter late at night because I haven't had enough.
For 'dessert' in the evenings, along with my usual giant bowl of fruit to get in my million-a-day fruit and veg, I've been having a 'protein frozen cookie'. They are so simple too! All you do is get a protein powder, mix it with just enough water to make a thickish but spreadable paste, pour it onto a piece of foil and shape it into a circle with your spoon and freeze it for 20 minutes or so! It works best with Spriu-tein chocolate crunch or the cookie dough ones because they have crunchy pieces in which kind of work as 'chocolate chips' in your frozen cookie!
I also decided to get my gluten free bake on and do some experimenting with some protein bars. I've seen a lot of bloggers making Jamie Eason's LiveFit recipes so I had a look at some of them for inspiration. They sounded pretty good so I think I'll be making vegan gluten free versions of a few of them to come! I started off with the apple cinnamon ones and played around with the ingredients and they turned out pretty well if I say so myself.
Vegan and Gluten Free Apple Cinnamon Protein Bars
Makes 10 bars
Ingredients
1 cup vanilla protein powder (I used Spiru-tein)
1/2 cup buckwheat flour
2 tsp gluten free baking powder
1/4 tsp salt
2 tsp cinnamon
1/4 tsp nutmeg
1/4 tsp allspice
3/4 cup applesauce (mine had chunks of apple in for extra appley-ness!)
1 tbsp of ground flax mixed with 3 tbsp water
1/4 cup stevia (I used the UK Truvia)
1/4 cup water
1 tsp vanilla extract
1 medium apple – grated
Spray an 8-by-8 inch dish with non-stick spray (I used individual brownie pans). Preheat oven to 350 degrees. In a large bowl, combine protein powder, buckwheat flour, baking powder, salt, cinnamon, nutmeg and allspice. Whisk together and set aside.
In a small bowl mix the ground flax with the 3tbsp of water and leave to one side.
In another small bowl, combine the applesauce, no-cal sweetener and vanilla. Mix until well incorporated and then add the mix along with the ground flax mixture plus another 1/4 cup of water to the dry and mix again.
Fold in grated apple and mix until combined.
Pour batter into the prepared dish and bake at 350 degrees for 15-20 minutes.
Are you conscious of how much protein you get?
Favorite snacks at the moment?